Insulation
Do you have high heating and cooling bills? Do you know that most homes lack sufficient insulation and that insulation degrades over time (according to the Department of Energy)?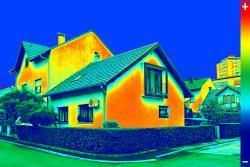 Upgrading home insulation is a great approach to cutting your utility bills and increasing indoor comfort in Central Maine. Insulation works by keeping cold out during the winter months and heat out during the summer months, saving money throughout the year.
The Benefits of New Home Insulation
Lower energy bills all year
Greater indoor comfort
Higher indoor air quality
Less outside noise for a quieter home
Can extend the life of heating and cooling equipment
When home insulation fails, it causes numerous performance issues throughout the home. Common problems include high heating and cooling bills, large temperature swings, uneven indoor temperatures, drafts, and even animal infestations. The Breathable Home customers from Augusta to Lewiston, are delighted by the difference our insulation service makes on indoor comfort, utility bills, and home durability.
Investing in your home's insulation saves you money each month, for many years. Insulation creates a thermal barrier between your home and the outdoors. In some cases, high efficiency insulation can lower your heating and cooling bills by 30%.
Cellulose Insulation
The Breathable Home specializes in using National Fiber Cellulose insulation because of its excellent ability to lower heating and cooling bills, increase home comfort, and protect the environment. Cellulose insulation starts its life as newspapers that were printed but never distributed. Cellulose insulation is highly durable, non-toxic, and resistant to mold for healthier indoor air quality. In fact, we are certified installers of National Fiber cellulose, and our machine is tested for proper blower capacity. National Fiber also inspects our work occasionally to make sure we are applying the insulation correctly.
We dense-pack cellulose into walls and enclosed building cavities to promote home performance. The Breathable Home really likes the results of cellulose because of its ability to slow air movement as well as its reasonable cost, consistent R Value, and environmentally-friendly production from recycled materials. In attics, we use an open-blow process that allows the cellulose insulation to fill in nooks and crannies while being open to air on at least one side.
Spray Foam & Rigid Foam Board Insulation
The Breathable Home team uses other insulations to create the best results for our customers, including spray foam and rigid foam board. Spray foam insulation goes where other insulations can't reach, sealing gaps and cracks for continuous insulation. Rigid foam board is very dense, creating a good insulation option when space is limited.
With several different types of insulation products at our disposal, The Breathable Home can insulate and seal odd, complicated, and simple structures throughout Central Maine, with predictable energy-saving results.
Want to lower your utility bills throughout the year? Call us today to learn more about our insulation service!