Our Process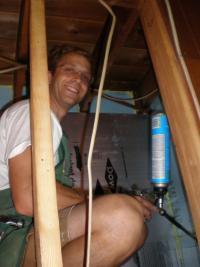 We are driven by the requests from homeowners to address the current energy crisis and the strain on the working family. With our tools and desire we can start by changing the energy usage in your home as well as the overall efficiency of the structure. Our goal is to match your budget with the most effective, safe, sustainable and efficient building you can afford. Our reputation is based on honesty, integrity, education and communication. We love what we do and do it proudly! We approach all our projects in the same manner:
1. Inspect
Our first look at your home helps identify cost-saving opportunities.
2. Evaluate
We evaluate your home - and your goals - for savings and efficiency.
3. Test
We conduct an Efficiency Maine model Energy Audit.
4. Implement
A scope of work is implemented based on the energy audit and your budget.
5. Save
Upon completion of our work, we submit the Efficiency Maine rebate forms on your behalf.