Air Sealing
Does your home have uneven temperatures, drafts, or high heating bills? If so, air sealing your home can greatly reduce your energy bills and improve home comfort for many years.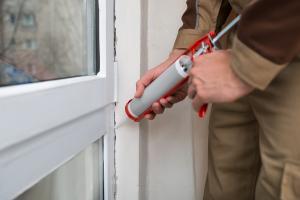 The enclosure of your home or building is like the material of a dry suit. You can only stay as warm and dry as the dry suit manages to keep out water and cold temperatures. Most homes have significant leaks, according to ENERGY STAR. All the leaks, gaps, and cracks in the average home exterior are equivalent to leaving a window open all throughout the year. Just think of how much you would save on your heating bill by sealing up those cracks and gaps! Air leaks can also cause moisture issues in the home, degrading indoor air quality and the home's structural durability.
Stop Air Leaks
By testing the air barrier in your Central Maine home, we can pinpoint the leakiest spots first and move from largest to smallest. From Waterville to Auburn, our expert crews are skilled in finding and sealing gaps and leaks. This allows us to take a customized approach to air sealing your home while paying the most attention to troubled areas within it. We air seal entire homes, from the attic to the basement, with great energy-saving results.
To air seal your Central Maine home, we use caulk and weatherstripping while applying spray foam insulation for larger gaps and cracks. Air sealing is the first choice to increase home energy efficiency and has the lowest upfront costs, compared to other energy-efficiency upgrades. Combined with high-performance insulation, air sealing and insulation are a powerful combination to boosting your home's efficiency and comfort!
Want to lower your heating bills? Contact us today to learn more about air sealing your home.